Khris Middleton can ball, Game 7 Nervousness, and Milwaukee title hopes (6/18/21)
Well, the Bucks did what nobody thought they could do after two nightmarish first games in Brooklyn; they forced a Game 7. In a series that has had a flare for the dramatic, Game 6 certainly did its justice in providing its storylines. Khris Middleton came through in a big way, scoring 38 points and knocking down big shot after big shot to keep the Nets from crawling back in, Giannis Antetokounmpo ditched his desire to shoot the three-ball and instead attacked the basket for 30 points, and the Bucks extended the series with a 104-89 win at Fiserv Forum over an ever-so scary Brooklyn Nets team.
In a game that felt, much closer than it should have, Middleton's big night from beyond the arc (5-8) propelled the Bucks. Every time the Nets inched closer to make a run for the lead, Middleton seemed to be able to hit a big shot. While the Bucks never trailed in Game 6, and were usually up by 7-12 points, their leads never felt safe. We all saw what happened in Game 5 : how easily the Nets took over the game, so even up by 4-5 baskets for the majority of the game, the atmosphere inside the Fiserv Forum was uneasy. Every so often, Brooklyn would string together a couple of buckets in a row, which only added to the nervousness inside the building. Every Bucks fan had the same picture going through their mind. That picture was Kevin Durant's vicious and altogether legendary 4th Quarter in Game 5. So even with a decent cushion, every time Durant or anyone else on his team scored, that same flashback came across my mind. However, thanks to some big time shooting by Khris Middleton, we didn't have to experience Durant's otherworldly ability to take over a game.
Middleton, the brunt of harsh criticism on his postseason play in years prior, was the spark that Milwaukee absolutely needed. If that was the first Bucks game you had ever watched, and you knew that one of the players on the team was the reigning back-to-back MVP, you undoubtedly would've chosen Middleton as the man. That's how good he was last night. Not that Giannis was bad (30 points on 17 rebounds and 3 assists), Middleton was just the player that was their go-to option all night long, something that Bucks fans have been waiting to see in the playoffs now for a while. He hit a last second jumper to give them a win in their first game of the postseason, and has now put them in a position to move on to the Eastern Conference Finals for the second time in three years. After a slow first quarter, Middleton got going in the second, hitting an and-one three pointer with 10:34 left in the half. From there on, he was lethal, proving he can step up in playoff games. Because of Middleton's shooting, Giannis' workload was lightened. Giannis didn't feel the need to shoot the three-ball, something that his done nothing but hurt the Bucks. Instead, he was able to focus on where his game is the best, which is around the basket, as he converted 11 times in the paint. Here's the thing, if Khris plays well, the rest of the team does too.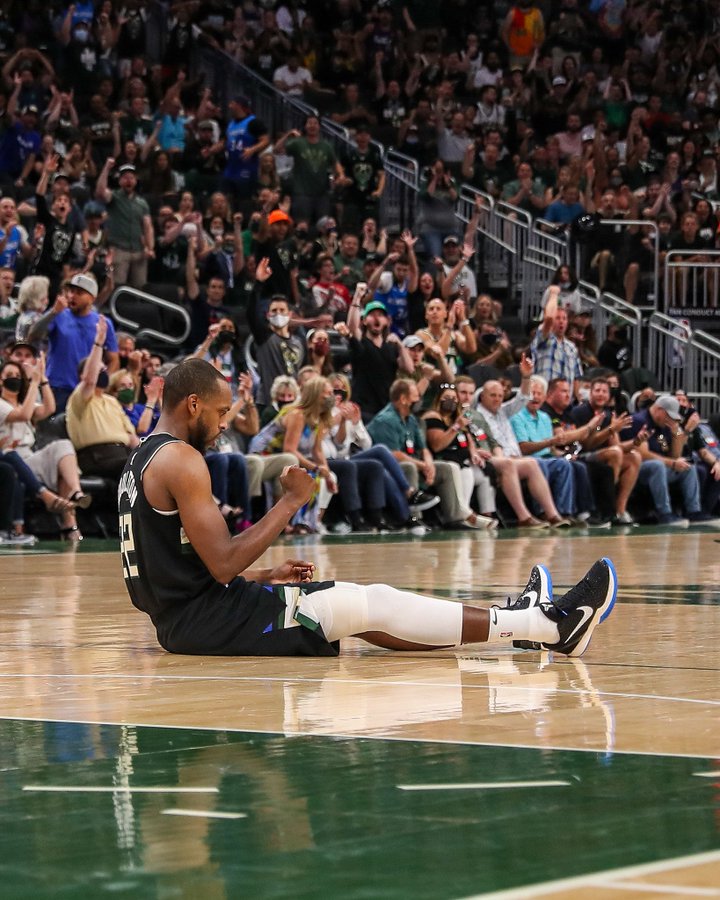 With that, the Bucks move on to a Game 7, of course they do. It would be nothing more Wisconsin sports-esque than to battle back in a series to force a Game 7 only to lose in heartbreaking fashion. The Brewers did it in 2018, and the Packers came from behind in this years NFC Championship, only for both teams to falter in the end. So I can tell you in great confidence that this thought is certainly running through the minds of all Wisconsin diehards, that is, the fact that our teams have incredible regular seasons, and go deep in the playoffs, just to lose at the brink of something special. Enough with the negative, though, The Bucks are in a Game 7 for a reason, and they've shown they can hang with this monster of a team called the Brooklyn Nets. However frustrating Game 5 was, Game 6 was the last game played, a game in which the Bucks won. Forget about how the Barclays Center has been a house of horrors for them, the Bucks need to come in with the confidence they play with when they're at home. If they are able to play a full game of good basketball, beating this banged up Brooklyn team shouldn't be that large of a task. However, if they let their focus slip, they will surely have a seven footed cold-blooded killer named Kevin Durant to make them pay for it.
If the Bucks are able to achieve this tall feat, they will be favored in the Eastern Conference Finals against either Atlanta or Philadelphia. On the flip side, if Saturday is a no-show, Coach Mike Budenholzer's job could be gone, and some serious re-evaluation will take place this offseason. Game 7 will be the biggest game Giannis' life. Enjoy the ride. Bucks in 7.