Badgers advance to semis after victory over Indiana
WISCONSIN 70 
INDIANA 60 
Washington D.C. ~ It finally appears that the Wisconsin Badgers have put  their late season struggles behind them.  The Badgers looked as if they've forgotten the fact that they have lost 5 out of their last 7 in last nights 70-60 win over the Indiana Hoosiers, their second straight victory.  With that win Wisconsin advanced to the semifinals to play the Northwestern Wildcats.
Wisconsin has faced Indiana three times this season and have defeated them in all three games. Also, in all three games Wisconsin as held Indiana, the Big Ten's highest scoring team at 80.4 points a game, to under 70 points. The Hoosiers, the 10th seed, came into the game after dominating Iowa 95-73.
Meanwhile this was  2 seed Wisconsin's first game of the tournament because they got a double-bye.
Wisconsin won on a balanced attack as5 players scored in double digits, led by Bronson Koenig's 16 points.  Ethan Happ, a second team All-American and first team All-Big Ten, scored 14 points while grabbing 12 rebounds for his 9th double-double of the season. D'Mitrik Trice scored 13 points, Zak Showalter scored 12, and Nigel Hayes added 10.
James Blackmon led Indiana with 17 points. Juwan Morgan, Robert Thompson, and Devonte Green also scored in double-digits for the Hoosiers.
Both Wisconsin and Indiana shot over 40 percent from the field. Indiana shot 9-22 from beyond the arc as Wisconsin went 10-22.
The game was very tight in the first 12 minutes with 8 lead changes and four ties. Then over the remaining 8 minutes the BAdgers went on a 14-5 run and went into the half leading 33-27.
After a few minutes Wisconsin went on another run this one 9-0 over the course of 3 minutes and then led 47-33. Indiana was able to push the score to 64-60 with 1:22left after Blackmon hit a three but then Wisconsin took over.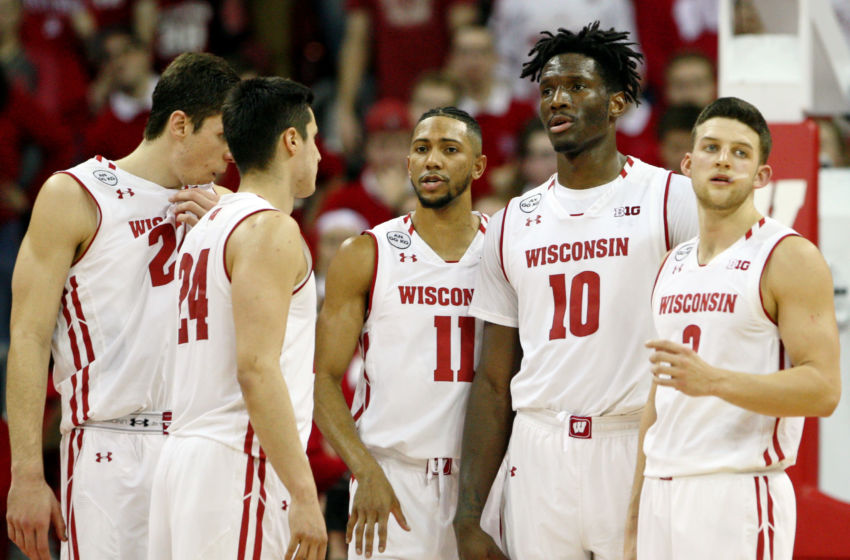 By Jacob Szczap